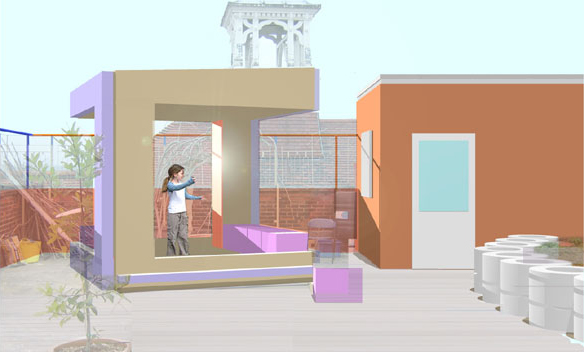 The Outdoor Classroom will be a focussed area of learning in the Roof Garden environment. The classroom will provide a flexible facility for learning, workshops, and performances. Seating and storage are integral to the design of the Classroom.
The site for the Outdoor Classroom is located in the north-western corner of the Roof Garden, adjacent to the northern stairwell and in front of the school bell tower.
The design of the Classroom seeks to maintain views from the garden to local landmarks whilst still providing shelter. The orientation of the Classroom was set by the position of the winter solstice sunset.
The Classroom will create a facility that helps the school to integrate environmental issues into its curriculum through the Roof Garden and will also engage with the local community by offering seating facilities for events such as outdoor workshops or concerts on the roof.
The Outdoor Classroom will be made using recycled or sustainable materials where possible, utilising the skills and expertise of local craftsmen and including members of the local community in its building team.
In summary, the Outdoor Classroom is:
A place for gathering
A place for communicating
A place for storing things
A new context for learning
A special place to visit
The Outdoor Classroom will benefit the school and its community in the following ways:
Creating a valuable curriculum resource
Attracting sponsorship money to the school
Creating links with local craftsmen
Contributing to research and debate on green building techniques
Raising pupils' awareness of green issues
The Outdoor Classroom was granted planning permission in April 2006.
We are currently seeking funding for the next stage of the project. If you would like to support the Outdoor Classroom project, then please contact us:
Melissa Ronaldson
London Community Herbalists
020 8376 2348
melissa@lcherbalists.co.uk
Nazar Ali Khan
Scipop
020 8374 7426
ufo@scipop.com
Project team : London Community Herbalists, Scipop (architects), Rodrigues Associates (engineers).